| | |
| --- | --- |
| NL Scrap From France, news products, sales, freebies ...and more!!!!. | |
DESIGNEU

SE A L'HONNEUR - FEATURED DESIGNER
Dis nous en un peu plus sur toi ? ton prénom, ta vie, tes passions ?
Je m'appelle
Nathalie,
je vis dans le Sud de la France, dans un petit village entre l'Espagne et la Méditerranée, encadré de montagnes. Je suis passionnée par tout ce qui touche à l'image : la photographie, la retouche, la création graphique... Tellement passionnée que j'en ai fait mon métier en créant mon entreprise de graphisme et de design : je travaille pour les entreprises (logos, flyers, dépliants...) et les particuliers (photos des évènements, création d'objets de décoration à partir de leurs photos)
Depuis combien de temps pratiques-tu cet art ? sur quel logiciel ?
Depuis que j'ai appris à me servir d'une souris et d'un ordinateur, dans les lointaines années 90 LOL
et avec Photoshop particulièrement mais aussi un peu Illustrator
Que ce qui t'a amené au digiscrap ?
J'ai toujours décoré mes photos et fait des montages numériques parce que je trouvais le scrap "réel" trop onéreux ... en me baladant sur le net, je me suis aperçue que c'était une discipline à part entière que je n'étais pas seule à aimer !!
Donnes nous 5 termes pour définir ton style :
unique, décalé, un peu "ouf", créatif, rebelle
Si tu devais choisir un des tes produits et un seul, lequel serait-il ?
difficile ... J'ai toujours l'impression de faire mieux que le celui d'avant
J'aime particulièrement "Vintage et Profiteroles"
Pourquoi ce choix ?
parce que le titre me fait rire ... parce que ses couleurs donnent de magnifiques pages, et parce que je me suis vraiment amusée à le faire.
Pourrais-tu nous présenter 4 de tes pages CT préférées ?
ça encore, c'est difficile, j'adore les pages de ma CT, et je suis super contente à chacune de leurs réalisations !!
celle ci de Cocotounette avec mon kit "I love you patati et patata" et avec un de mes templates
celle ci est de Sakura, RAK Sarayane
elle a été réalisée avec mon kit "Vintage et Profiteroles"
celle ci a été faite par LeaUgoScrap, j'adore son côté C&S
avec mon kit "Dynamic Area"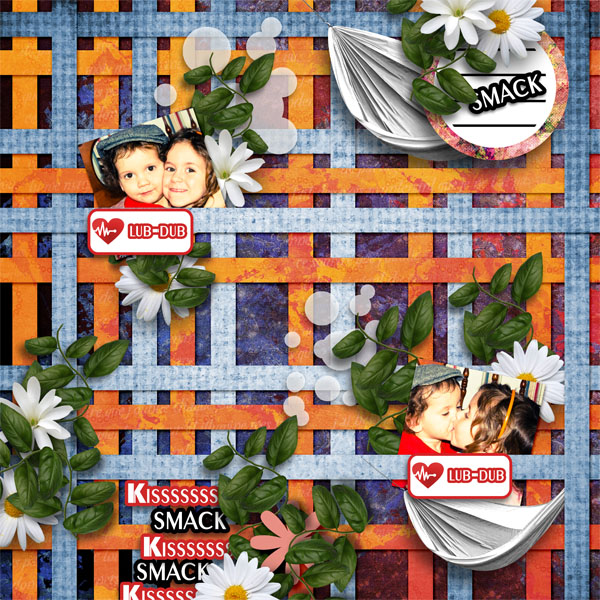 et celle ci de Sarayane avec mon kit "Heart's Whispering"
Et à part le scrap, fais-nous partager ton morceau de musique préféré du moment
En ce moment, j'écoute Imany et Irma en boucle ... ma préférée du moment serait peut être celle-ci :
http://www.deezer.com/track/14245777
J'en ai tiré un kit du même titre ...
Pour finir, quelle est ton proverbe préféré ?
J'en ai fait un wordart il y a quelques temps pour un challenge

en français, cela signifie que de changements en changements, nous restons toujours un peu les mêmes.
C'est une phrase issue d'une chanson de Simon & Garfunkel (The Boxer, je crois)
---
Tell us a little more about you ... your first name, your life, your passions ? your hobbies???
My name is Nathalie, I live in the South of France, in a small village between Spain and the Mediterranean Sea, surrounded by mountains. I am passionate about everything that affects the image: photography, editing, graphic design ... So passionate that I have made my own job in creation and graphic design: I work for companies (logos, flyers, brochures ...) and individuals (photos of events, creation of decorative objects from their photos)

For how long do you do this art ? With which program ?
Since I learned how to use a computer about 20 years ago LOL
especially with Photoshop but also a little Illustrator

What brought you to digital digiscrapbooking ?
I always decorated my pictures with digital composition because I found the "real" scrap too expensive ... when I went on the net, I realized that it was a discipline in its own right and that I was not alone to love it!

Give us 5 words to define your style.
unique, quirky, a little "mad", creative, rebel

If you have to choose one and only one of your products, which would it be ?
Hard to chose ... I always seem to do better than the one before: D
I particularly like "Vintage and Profiteroles"


Why this choice ?
because the title makes me laugh ... because its beautiful colors give marvellous pages, because I had really fun to do it.

Can you present us 4 of your favorite CT pages ?
yet it is difficult, I love my CT pages, and I'm really happy with each of their accomplishments!



this one of Cocotounette with my kit "I love you patati et patata" and one of my templates



that is from Sakura, RAK Sarayane
it was made with my kit "Vintage and Profiteroles"



this one was made by LeaUgoScrap, I love her C & S side
with my kit "Dynamic Area"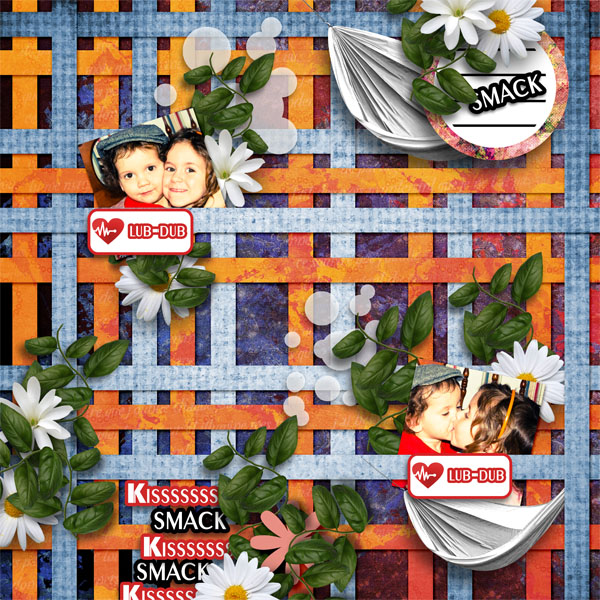 and this one of Sarayane with my kit "Heart's Whispering"

And, apart from scrap, can you tell us your favorite song at this day ?
At this time, I listen Irma and Imany ... my favorite of the moment might be this:http://www.deezer.com/track/14245777
I create a kit with the same title ...

And, finally, what is your favorite quote ?
I made a wordart some time ago for a challenge



This is a sentence from a song by Simon & Garfunkel (The Boxer, I think)
---
Vous connaissez maintenant un peu mieux qui se cache derrière Simplette...elle tenez aussi à vous offrir freebie coordonné avec sa dernière création
" Petit Air printanier"!!!
Now, you know a little bit more who is hidden by simplette...she wanted also to offer you a freebie coordinated with her last creation
" Petit Air printanier" !!
---
S

oldes - S

ales
Kittyscrap : 50 % until the end of month
Mellye Creation : 40 % until the end of month
Rieneke Designs : 30 % until the end of month
Come and see -

A découvrir !!!

---
NOUVEAUTES - NEW PRODUCTS
---
NOUVEAUTES CU - NEW CU PRODUCTS
---
GRATUIT AVEC ACHAT - FREE WITH PURCHASE
Pour un achat de 5.00 euros seulement sur la boutique,
Didine
vous offre son kit
"Fresh Tone"
. Et toujours le collab
'Masquerade'
à partir de 10.00 euros
For a purchase of 5.00 euros,
Didine
offer he
r kit
"Fresh Tone"
A
nd there is always the FWP collab
'Masquerade
' for 10.00 euros.
---
DESIGNER CALL
Bonjour, vous etes designeuse et cherchez une équipe sympas conviviale dans laquelle vous pourrez vous éclater…rejoignez-nous chez Scrap From France!! Bonne ambiance garantit et pleins d'initiatives en perspectives. Nous aimons créer et ceci dans tous les domaines!!!
Hello Ladies, you are looking for a friendly team with a lot of good ideas…join us at Scrap From France!! Fair-play and great projects are waiting for you!!
---
You are receiving this email because you opted in at our store,

scrapfromfrance.fr.Copyright © 2012, Scrap From France , All rights reserved.